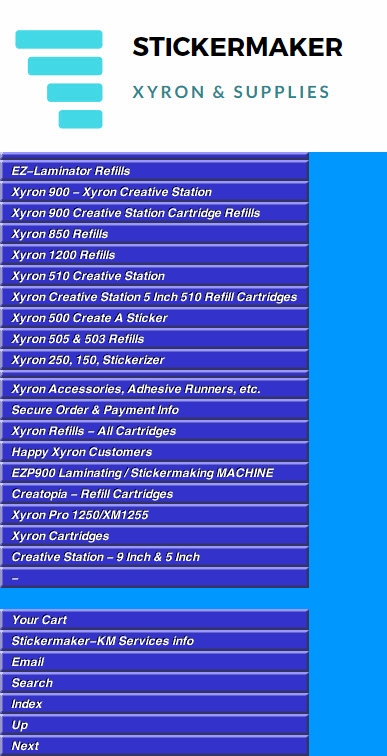 Xyron 500 Create A Sticker Stickermaking Machines. Small enough to be easily portable for scrapbooking parties. Easy to use, with your choice of supplies: Permanent (preloaded)or Repositionable adhesives, both acid free!


Xyron 500 Create-A-Sticker Max 5"
Xyron Create-A-Sticker Max - this 5" wide Acid Free Stickermaker comes preloaded with a cartridge of Permanent Acid Free Adhesive Sticker material. Also included is a full color Idea and Instructional Booklet. (Be sure to check out the full featured 510 Xyron model, too.)

Great for "punchies" and other small items you want to turn into a sticker. Really portable too. Fun for Kids!

Includes:
Xyron 500 "Create-a-Sticker" Max Machine
18' Cartridge Acid Free Adhesive Permanent Pre Installed



Repositionable 5" Create-A-Sticker Adhesive Cartridge Fits Xyron 500
Repositionable Refills for Xyron 500 Create-a-Sticker, save in quantity!

Hi Tack Acid Free 5" Create-A-Sticker Cartridge Fits Xyron 500 AT1505-18
Permanent Adhesive (Stickermaker) cartridge for the Xyron 500 Create-A-Sticker. Acid Free Five inches wide and 18' long.



(Please note, this item is OUT of STOCK and in stock date is unknown )